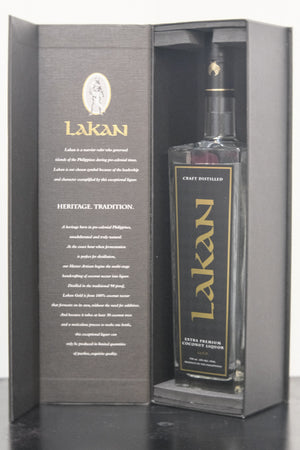 Manila Cigars
Lakan Extra Premium Lambanog
Sale price Price ₱3,500.00 Regular price Unit price / per
Lakan is pure coconut nectar craft distilled with artful precision and refined to perfection. Distilled in the traditional 90 proof potency, Lakan is surprisingly smooth and subtle and is best served neat. Today, the legend of the Philippine Lambanog enjoyed for many generations live on in this premium liquor called Lakan.

Philippine Craft Distillers, Inc. is a licensed world-class distiller of liquor and spirits. Inspired by the centuries-old distilling of coconut nectar into liquor practiced all throughout the islands of the Philippines, the company has perfected production of only the highest grade distilled spirits using the latest advances in technology.

Philippine Craft Distillers, Inc. is committed to drive the coconut industry to higher levels of productivity and supports the Balik-Probinsiya countryside entrepreneurship advocacy.