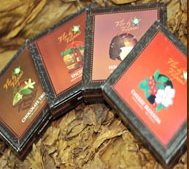 Tabaqueria De Filipinas
Flavored Cigars Slim Panetelas Cartons, Wood Tipped 50s
Sale price Price ₱2,990.00 Regular price Unit price / per
These tasty delights are classic Flor de Filipinas cigars infused with rich flavors that tickle the taste buds and the nose. Try our delicious flavors of Chocolate, Honey, Cherry, Rum and our bestseller, Vanilla.
The perfect accompaniment to your favorite after-dinner drink, these aromatic cigars should be enjoyed in the company of friends. Packaged in beautifully designed packs, these are perfect to take along anywhere or to give away as gifts.
The Flaveored Cigar Slim Panetelas has a size of 4.5 x 28 and is available multiple flavors packed in Carton Packs of 50s.